The
International Organisation for Standardisation (ISO)
is an international organisation for developing standards. The ISO was founded in 1946. The new project grew out of two companies: The International Federation of National Standardising Associations (ISA) and The United Nations Standards Coordinating Committee (UNSCC). Initially, the ISO united 25 national companies. The Russian Federation became a member of the ISO Council in 2005.
The ISO is an independent non-governmental international organisation that works together with national standardisation bodies.
These bodies consist of experts who share best practices and develop voluntary, consensus-based standards.
What is a standard?
A standard is a document setting out the requirements, specifications, guidelines or characteristics that apply to materials, products, processes and services suitable for a particular purpose.
ISO certification refers to a specific set of standards that apply when establishing and upgrading systems aimed at quality management. Such systems ensure that all stages of production or service delivery are properly controlled. This refers to the control of the entire set of components of relevant processes: documentation, materials, resources, etc.
ISO certification confirms that the products manufactured or services provided are in full compliance with the global quality standards. The certification is conducted by an independent expert. If the compliance with the standards is confirmed, it is followed by the issuance of an ISO certificate.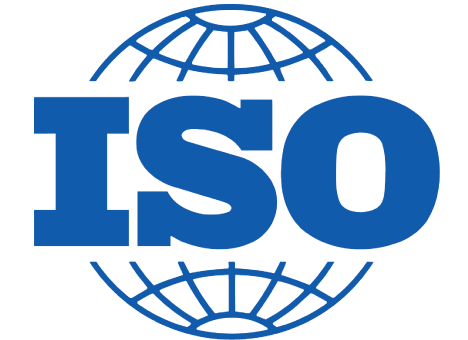 The ISO logo is a registered trademark, which means that it cannot be used by third parties. No permission has ever been granted by the ISO in this regard. The ISO is not directly involved in certification activities, so it would not be appropriate for its logo to be used in this way.
Compliance with ISO requirements shall be confirmed by authorised certification bodies acting on the basis of a valid certificate. The companies that have been certified may bear their logos. Customers can obtain written information about compliance with the ISO, for example on a product's counter-label.
Certification of management systems is the most popular area of ISO certification. Experts from various countries have contributed to the development of management standards over a long period of time. As a result, they have produced standards, following which the company may significantly improve its performance.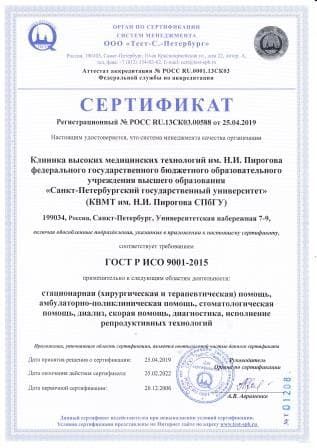 Obtaining the ISO certificate not only changes the status of the company, but also facilitates access to global developments of the quality management system (QMS). Companies of all sizes will learn how to use resources more effectively, improve risk management and product (service) quality to increase customer satisfaction.
The Pirogov Clinic of High Medical Technologies has been certified in accordance with the ISO 9001:2015 Quality management systems for all services provided by the Clinic. Every year, the Clinic undergoes a compliance verification procedure by independent organisations. In many countries, this voluntary certificate is a sign of quality for the customer and provides an additional guarantee of reliability and professional competence on a national and international level.