Surgical treatment
1. Organ-preserving surgeries in case of benign breast tumors: sectoral resections of any location.
2. Mastectomy and oncoplastic surgeries.
3. Reconstructive surgeries on the mammary gland during/after mastectomy:
immediate reconstruction with implants (the prosthesis is installed immediately after removal of the mammary gland);
delayed reconstruction with implants (after some time after the mammary gland removal, a tissue expanderis installed, followed by the endoprosthesis installation);
reconstruction with skin flaps (breast reconstruction using own tissues and implants).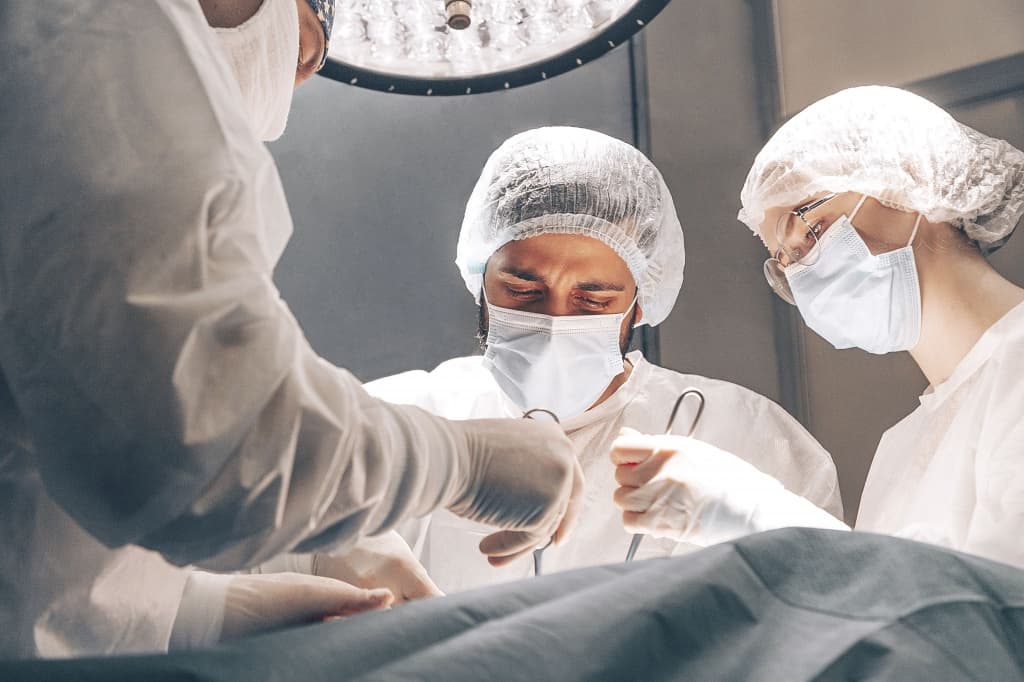 In our clinic we use endoprostheses made by leading global manufacturers: Mentor, Eurosilicone, Silimed.
All surgical interventions in case of malignant tumors are performed with the detection of "sentinel" (signal) lymph nodes, including using the ICG technique. ICG laparoscopy or fluorescence laparoscopy is used by our surgical oncologists during surgical procedures to better visualize the anatomical structures. During the intervention, a special fluorescent contrast solution is administered to the patient intravenously or into the tissues adjacent to the tumor. When the substance enters the blood stream, it becomes visible under the special optics in the infrared spectrum. Thanks to this cutting-edge technology, the surgeon is able to perform the organ-preserving procedure and detect the lymph nodes affected by metastases that are invisible at traditional intervention. Today, the ICG technique is the "gold standard" not only in oncology, but also in surgery in general. It is easy to perform and safe for the patient.
Systemic treatment
In cooperation with chemotherapists, all types of systemic treatment of breast cancer are performed:
Chemotherapy is performed as an independent therapy, when surgical treatment is not required or contraindicated, as well as before and after the surgical treatment. The choice of chemotherapy regimens is made individually, taking into account the results of instrumental methods of diagnosis (mammography, MRI, ultrasound) and morphological assessment, if necessary. Chemotherapy is carried out in a day hospital, taking into account all the necessary accompanying therapy.
Targeted therapy (CDK4/6 inhibitors, EGFR targeted therapy, PDL targeted therapy in case of expression, etc.).
Hormone therapy as well as all previous types of treatment is selected strictly individually and specified by a doctor, based on the results of periodic follow-up examinations.

At each stage of treatment, the tumor response to drug therapy is evaluated and the subsequent treatment is corrected.