The Radiology department as part of the Pirogov Clinic of High Medical Technologies at St Petersburg University ranks among the best radiology diagnostic facilities in the city.The ability to verify the results of radiological examinations with clinical data
enhances our doctors' expertise.
Magnetic resonance imaging
Magnetic resonance imaging (MRI) is a modern diagnostic method that produces detailed three-dimensional images of organs and tissues in the body, using radiofrequency waves and an intense magnetic field.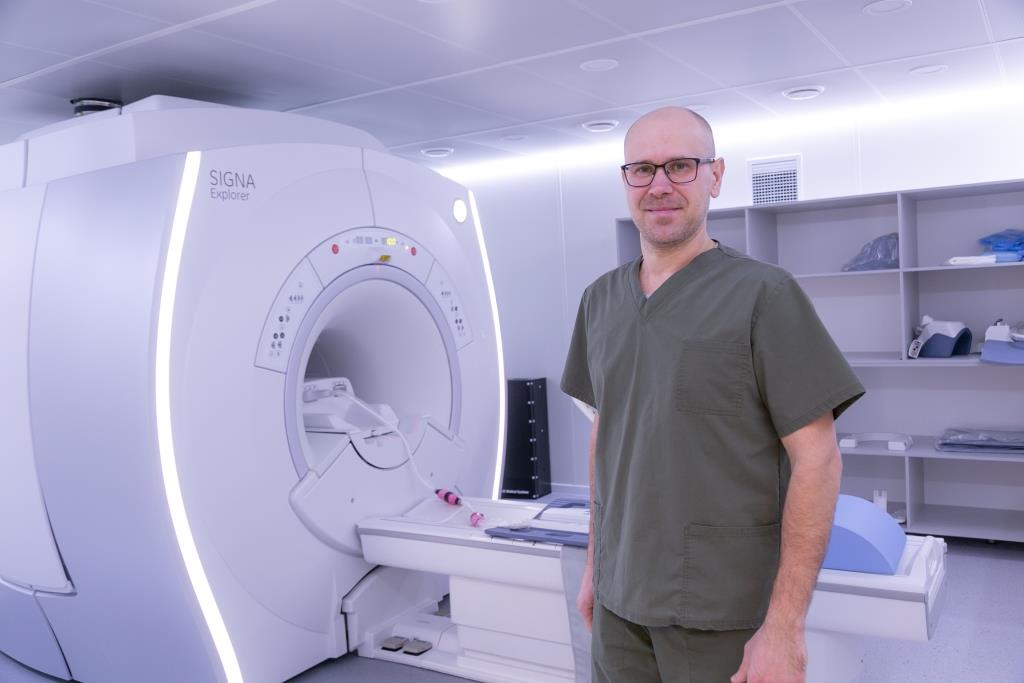 Two MRI scanners are available at the Pirogov Clinic:
GE SIGNA Explorer 1.5T
High-field, closed bore, 1.5 Tesla. The bore opening is 60 cm. Maximum patient weight for scanning is 115 kg. Maximum patient chest, abdomen, or hip
circumference for scanning is 105 cm.
GE Discovery MR750w 3.0T
High-field, wide bore, 3.0 Tesla. Maximum patient chest, abdomen, or hip
circumference for scanning is 120 cm.
The Pirogov clinic provides diagnostic radiology services including:
MRI of the brain and cranial nerves: It is used to help diagnose brain and spinal cord tumours, traumatic brain injury, cerebrovascular accident (stroke), and hydrocephalus to name just a few.
MRI of the pituitary gland
MRI of brain / neck vessels: It is used for functional-anatomical assessment of the arteries without a contrast agent – to detect or exclude aneurysms and atherosclerotic narrowing of blood vessels.
Spine MRI: A spine MRI scan is performed in cases of suspected intervertebral disc protrusions and herniations in patients with osteochondrosis and with spine and spinal cord injuries – to assess the effectiveness of treatment.
MRI of the joints: It is used to examine structures within the joint, including: ligaments; cartilage; tendons; and bone tissue.
MR cholangiography: A MR cholangiogram is used for evaluation of patients with gallstone disease, with a violation of the outflow of bile, and for detection or exclusion of liver and bile duct cancers.
Pelvic MRI: A pelvic MRI scan is ordered for detection or exclusion of oncological diseases.
Breast MRI: A breast MRI scan is used to diagnose breast cancer and other pathologies of the mammary glands.
An MRI scan is a painless and safe procedure. It lasts 30 to 60 minutes. Since there is no exposure to X-rays, this examination is considered harmless.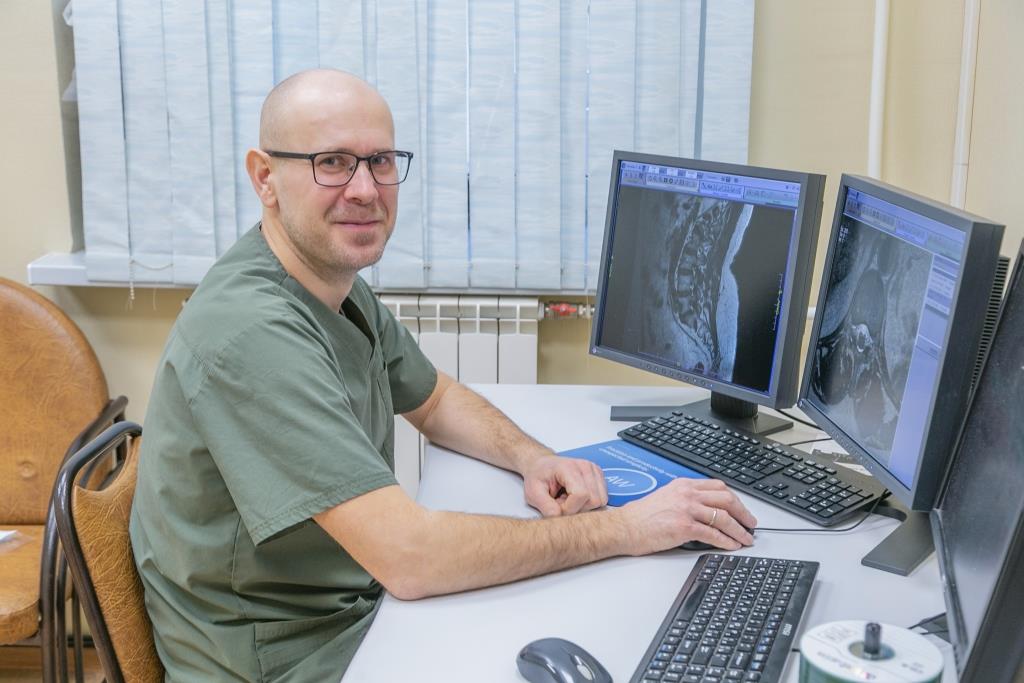 Contraindications for MRI scanning:
electronic implants (pacemaker, cochlear implant, etc.);
pregnancy;
metallic joint prostheses, orthopaedic hardware, metal plates, brain aneurysm clips, any metal objects or fragments in the body.
Computed tomography (CT)
Computed tomography (CT) is a modern diagnostic method that uses specialised X-ray technology and computing algorithms to create detailed cross-sectional images of internal body structures.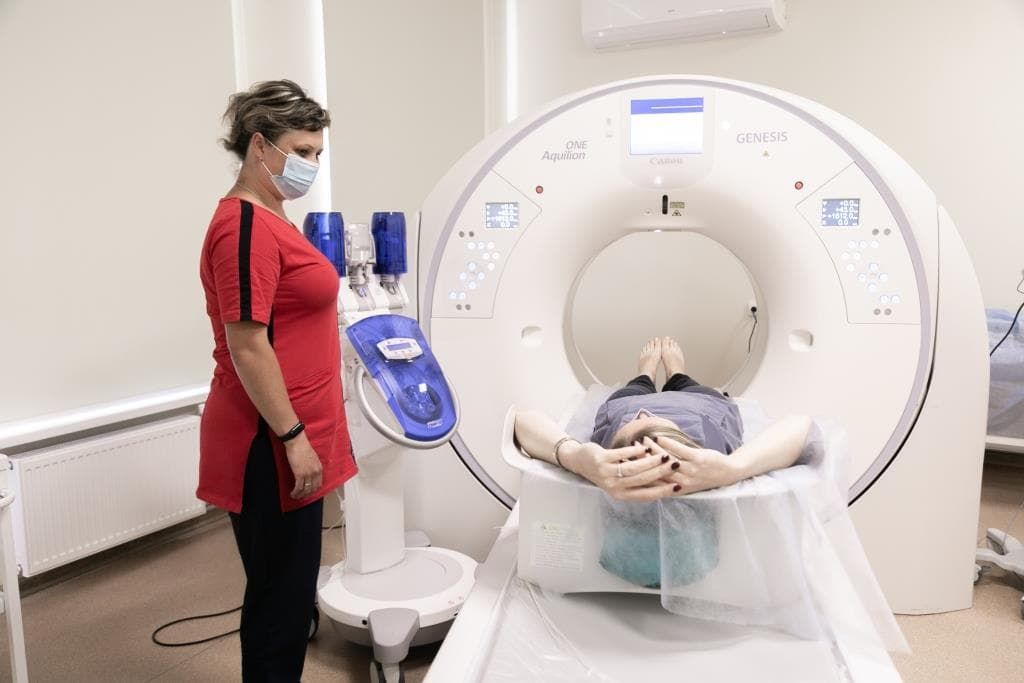 Two CT scanners are available at the Pirogov clinic:
Toshiba Aquilion 64 Slice CT Scanner
This is an expert class 64-slice helical CT scanner with 64 detector channels.
Unlike 4-16-slice CT scanners, a 64-slice scanner enables obtaining high-resolution images in three projections, creating three-dimensional medical images.
The procedure usually takes a few minutes and is absolutely painless for patients.
Canon AQUILION ONE GENESIS Edition 320 slice CT scanner
Key benefits:
Lower contrast doses with fewer potential complications for patients
Reduced amount of radiation exposure for patients
The possibility of performing a functional diagnostic test of the heart and acquiring high-quality 3D images of the coronary arteries with contrast in a fraction of a second – during one heartbeat
Dynamic volume CT enables acquiring three-dimensional volumetric
medical images of moving tissues
The Radiology department at the Pirogov clinic provides CT imaging services including:
CT scan of the head and neck: A CT scan of the head and neck is performed for detection or exclusion of brain tumours and in cases of head injury, cerebrovascular accident (stroke), neck trauma, or pathological formations in the neck. Ophthalmologists and ENT doctors may order a CT scan of the head and neck for patients with orbital trauma, diseases of the orbit, paranasal sinuses, nasopharynx, larynx, and temporal bones.
CT scan of the chest and lungs: Detailed images of the lungs and mediastinum can help doctors to timely diagnose pneumonia, lung and mediastinal tumours.
CT scan of the abdomen and pelvis: It helps doctors to detect tumours and inflammatory diseases of the abdominal cavity and retroperitoneal space. It might be ordered for patients with abdominal trauma, bladder stones, and other problems.
Musculoskeletal CT scan: It is performed in cases of spine or limbs injuries, inflammatory changes in bones and joints, in preparation for joint replacement.
CT densitometry: A bone density CT scan is used to diagnose osteoporosis. It is performed to measure bone mineral density of lumbar spine and proximal femur. The timely diagnosis of osteoporosis enables doctors to prescribe the optimal treatment and helps to avoid fractures.
CT angiography of the thoracic aorta, abdominal aorta, cerebral arteries, and lower limb arteries: An angiogram can be ordered by a vascular surgeon to detect aneurysms of the aorta and other large vessels, to assess the degree of atherosclerotic luminal narrowing of blood vessels, to monitor the condition of patients with the atherosclerotic coronary artery disease and patients with cardiac shunts and stents.
A CT angiogram is a minimally invasive, outpatient procedure that provides 3D visualisation of the aorta and large arteries. Before having the scan, the patient receives an intravenous injection of a contrast agent into a peripheral vein via an automated injector. Modern software enables creating a three-dimensional model of the artery vascular bed, with the smallest changes in the vessel wall being displayed.
CT coronary angiography: A CT coronary angiogram is examination of the arteries of the heart.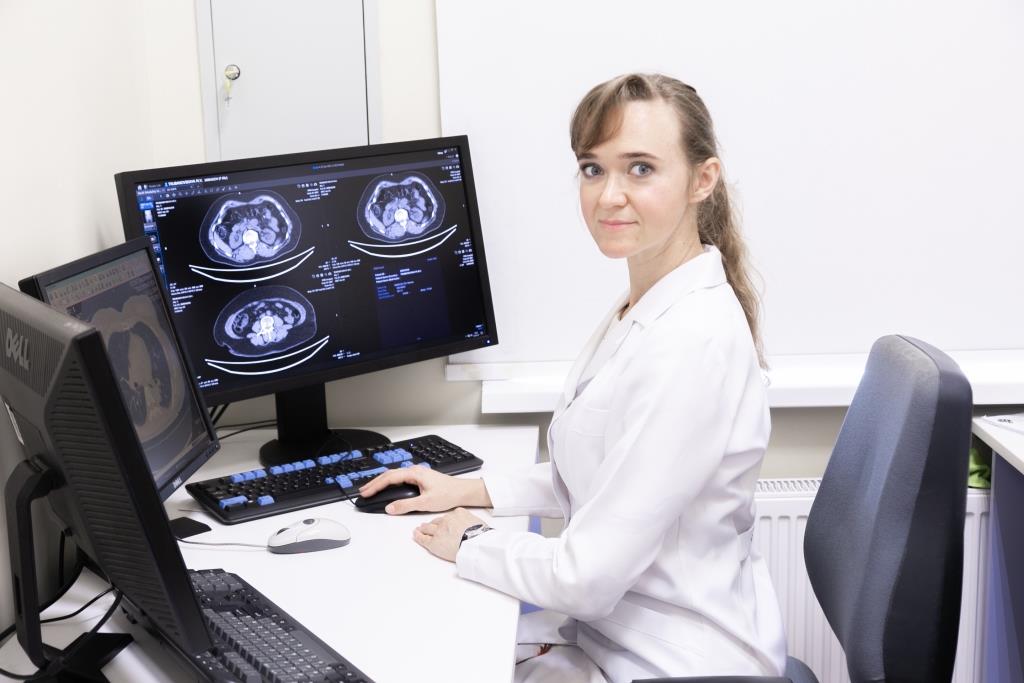 Contraindications for CT scanning:
Without contrast
With contrast. Contrast agents contain iodine!
allergy to iodine;
kidney problems;
severe diabetes;
pregnancy.
After a CT or MRI examination, you will receive:
a radiology report;
a CD-ROM with your scan results. The disk will contain the obtained cross-sectional MRI or CT scan images and software for viewing and manipulating medical images on a personal computer, allowing you to enlarge the images and make various measurements.