Ultrasound diagnosis is a modern, simple and effective method of diagnosis that provides essential information about the condition of internal organs and systems.
The ultrasound diagnosis units are equipped with the latest ultrasound equipment, offering the most advanced developments in the world of ultrasound diagnostics:
full digital image processing;
colour Doppler mapping for vascular examination;
multifrequency, high-resolution transducers for high-quality imaging of human tissues.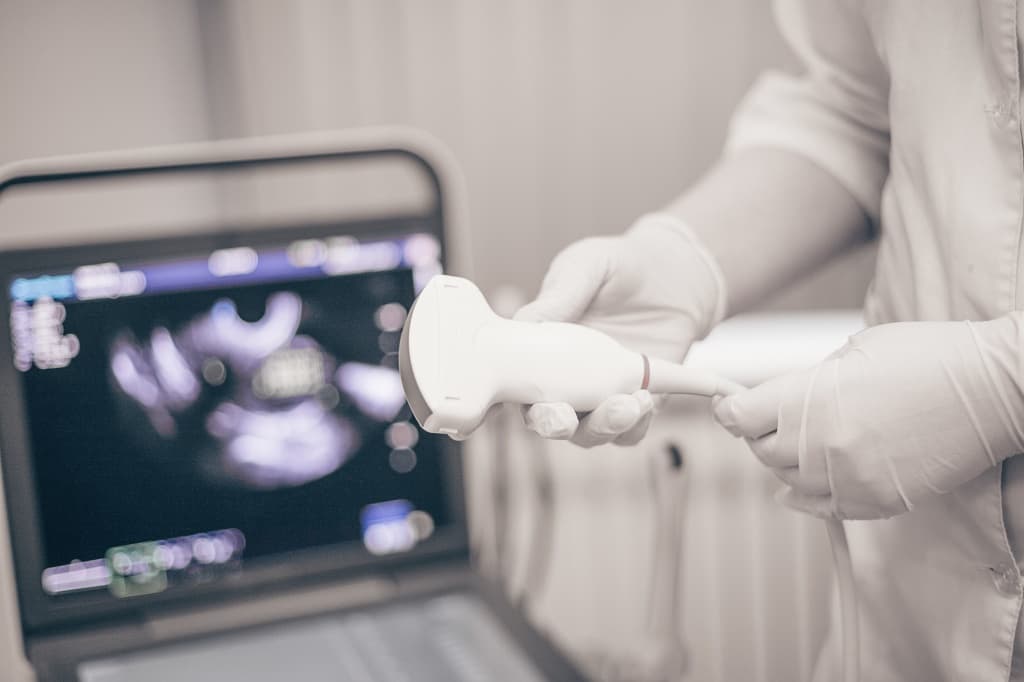 Specialists in the Ultrasound Diagnosis Department perform the following ultrasound examinations:
Ultrasound examinations
Ultrasonography of the abdominal organs and kidneys;
Pelvic ultrasonography;
Thyroid ultrasonography;
Breast ultrasonography;
Ultrasonography of the scrotum;
Ultrasonography of the adrenal glands;
Ultrasonography of soft tissue masses.
Vascular duplex ultrasound (Doppler)
neck and cerebral vessels (extra- and intracranial levels);
main arteries of the lower extremities;
deep and superficial veins of lower extremities;
main arteries of the upper extremities;
veins of the upper extremities;
abdominal aorta and its visceral branches (trunk, superior mesenteric artery);
abdominal aorta and renal arteries and veins supplying blood to the kidneys;
portal vein system (for portal hypertension);
pelvic vessels; scrotal and penile vessels.
Some types of ultrasound examinations require special preparation.
The abdominal examination is conducted on an empty stomach.
If the examination is performed in the morning or in the first half of the day, it is advisable to have a light dinner the night before and not to eat or drink in the morning. If the test is performed in the afternoon or evening, do not eat or drink for 6 to 8 hours (adults), for 4 to 5 hours for children aged 7 to 15 years, 3 to 4 hours for children aged 3 to 7 years, new-born babies and young children − before feeding.
Preparation of patients for duplex (Doppler) examination of the abdominal aorta, kidney vessels and liver vessels is conducted in the same way.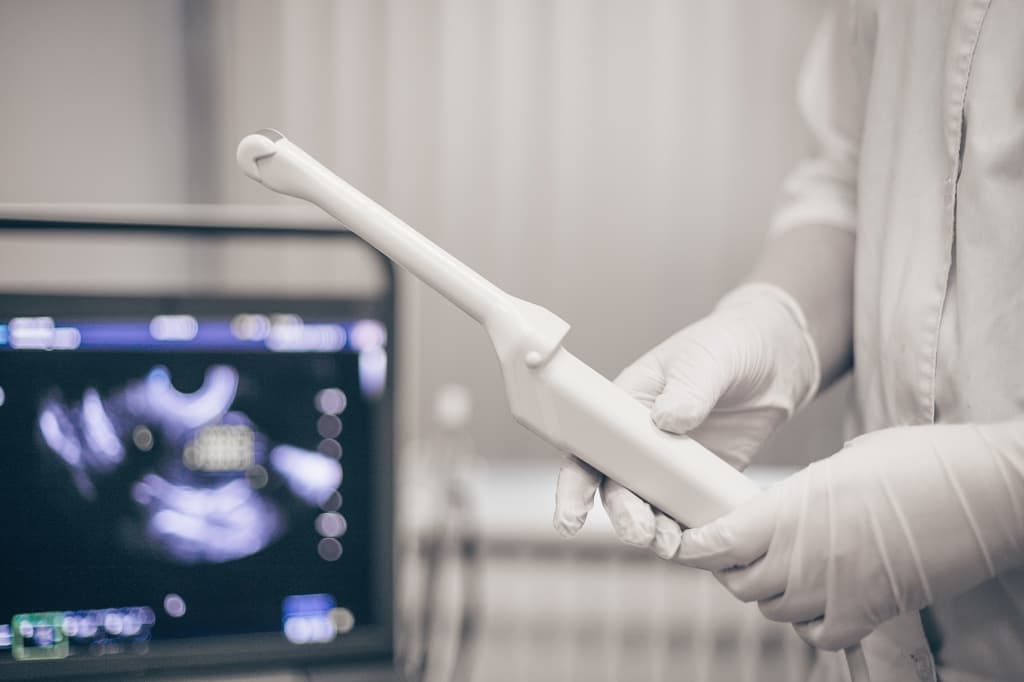 For transabdominal pelvic ultrasound, both for women and men, the bladder must be full. Women must have an overly full bladder and men must have a moderate full bladder. Women should drink any liquid (water, juice, tea, etc.) in the amount of 1.5 to 2 litres 1.5 to 2 hours before the examination. Men should drink 1 to 1.5 litres 1 to 1.5 hours before the examination. Transrectal pelvic examinations in men require a cleansing enema the day before the examination.
Other examinations do not require any special preparation.
Contraindications. There are no contraindications to ultrasound examinations.
The Pirogov Clinic of High Medical Technologies at St Petersburg University has passed the ISO 9001:2015 quality management system certification for all services provided. After earning the ISO certification, the Clinic has been annually audited by independent auditors to ensure it meets the requirements of the ISO 9001 standard. In many countries, a voluntary ISO certification is regarded as a mark of quality and credibility for a company, a guarantee of reliability for customers and of nationwide and worldwide professional reputation.
Treating activities
Ultrasound examination of the gallbladder and evaluation of its contractility
Today, ultrasound is the most effective method of instrumental non-invasive diagnostics of gallbladder diseases. The method offers high specificity and precision. It is safe and easily accessible.
Pleural ultrasonography
Ultrasound diagnosis is a non-invasive instrumental diagnostic test that is also suitable for pleural cavity examination. It is highly specific and precise, easily accessible, and can be used repeatedly in patients of all ages and with any medical history.
Pelvic vein duplex ultrasound scanning
Chronic pelvic venous insufficiency is a growing problem among patients and the cause of various diseases. A pelvic vein duplex scan allows the timely and precise diagnosis of pelvic dysfunction syndrome and varicosity and helps to identify the degree of involvement of the pelvic venous vessels in the pathological process
Ultrasonography of the arteries of the lower extremities
The arterial vessels of the lower extremities have a complex topographic anatomy, which greatly complicates their diagnostic evaluation. Ultrasound sonography is therefore a very useful diagnostic tool to detect peripheral arterial diseases and to identify cholesterol plaques, thromboses, stenoses and other pathological processes.
Ultrasonography of the veins of the upper extremities
Ultrasound diagnosis plays a key role in the evaluation of the venous system of the upper extremities. It is a non-invasive screening method with high sensitivity and precision. Ultrasound examination is inexpensive and completely safe. It does not require any specific preparation, and it is therefore widely used in clinical practice, making it the best alternative to other radiological methods.
Ultrasonography of the veins of the lower extremities
Ultrasonography is a highly sensitive diagnostic method of imaging that is widely used for the evaluation of vein pathologies of the lower extremities. Ultrasound examination allows the detection of deep thromboses, stenoses, atherosclerosis and other vein diseases, as well as the qualitative and quantitative assessment of the degree of pathological involvement.
Ultrasonography of lymph nodes
Ultrasonography of lymph nodes is a highly sensitive, precise, safe and easy to perform method of instrumental diagnosis. The examination is recommended for patients with marked symptoms of lymphadenopathy and as part of differential diagnostics for various autoimmune and oncological pathologies.
Ultrasonography of soft tissue masses
Ultrasound diagnostics is a universal method that allows visualisation of the physical condition of a whole group of soft tissues: skin, muscles, tendons, ligaments, adipose and connective tissue, lymph nodes, and blood vessel walls. This examination method is easily accessible and can be prescribed to patients with any clinical picture and with a wide range of medical histories.
Ultrasonography of the adrenal glands
Ultrasonography of the adrenal glands is a diagnostic method that allows imaging of the paired endocrine glands located in the apical region of the kidney and evaluating their size, location, tissue structure, contours, presence of volumetric neoplasms and other pathological processes.
Ultrasonography of the kidneys
Kidney diseases are diagnosed more and more often in people under the age of 40 and even in children. Any urological disorder has a negative impact not only on a person's general condition and health, but also on their quality of life. Ultrasound examinations provide a quick and painless way to obtain initial information about changes in the kidneys.
Ultrasonography of the abdominal cavity
Ultrasonography is a highly sensitive instrumental diagnostic method that allows rapid, non-invasive, and comprehensive examination of patients of any age. It helps to detect neoplasms, pathological abnormalities and assess the effectiveness of drug therapy or surgical intervention.
Ultrasonography of the liver and biliary tract (hepatobiliary zone)
Ultrasonography of the liver and biliary tracts is an informative and frequently used diagnostic method to detect various liver structures and to diagnose diseases and disorders of the gallbladder and biliary tract as well as of the circulatory system of the liver. It is suitable for patients of all ages, pregnant women and children.
Breast ultrasonography
Ultrasonography of the mammary glands makes it possible to diagnose benign neoplasms effectively and to detect breast cancer at a very early stage.
Ultrasonography of the thyroid gland
Ultrasonography of the thyroid gland is a non-invasive, safe and very informative examination method that has already become an integral part of an examination by an endocrinologist of expert level.
Pelvic ultrasonography for women
Ultrasonography of the pelvic organs is a highly informative instrumental method of non-invasive diagnosis that allows a high degree of accuracy in diagnosing and identifying various pelvic pathologies and obtaining a detailed picture of the course of pregnancy and foetal development.
Ultrasonography of the scrotum
Ultrasonography of the scrotum is the method of primary painless instrumental diagnosis, providing an objective clinical picture of the condition of the testicles, seminal cord and their ligaments. The examination is based on the physical properties of the echogenicity of living tissue and the ability of ultrasound waves to be reflected depending on tissue density.