General surgery
Surgical hernias treatment of the anterior abdominal wall.

Laparoscopic hernioplasty is used more often, traditional methods are used less often: in cases where laparoscopic hernioplasty is impossible for some reason. The choice of treatment method, the need to use modern polypropylene sieve grafts, and many other issues are solved by taking into account the characteristics of each individual patient. An individual approach allows to choose the best method of hernioplasty.

Abdominoplasty in case of postoperative ventral hernias. We perform all types of traditional and laparoscopic plastic surgeries, plastic surgery techniques with installation of modern synthetic implants, including anti-adhesion meshes (Bard, Covidien, Ethicon).

Surgical treatment of gallstone disease and its complications.

The most common surgery is laparoscopic cholecystectomy (gallectomy). Treatment of choledocholithiasis: in most cases minimally invasive endoscopic methods for stones removal from the bile ducts are used, which often allows to avoid surgery in patients with stones of such localization.

Surgical treatment of hiatal hernia in case of gastroesophageal reflux disease, treatment of Barrett's esophagus. The surgeries are performed both by traditional methods and using endovideosurgery (laparoscopic) technique. Any types of stomach surgeries in case of complications of peptic ulcer, benign tumors of the stomach (neuroendocrine tumors, leiomyomas, GIST).
Emergency surgery
Surgical treatment of surgical emergencies of the abdominal cavity, such as acute appendicitis, perforated gastric ulcer and duodenum, acute cholecystitis, intestinal obstruction, acute pancreatitis, etc. In most cases, these surgeries are laparoscopic.
Coloproctology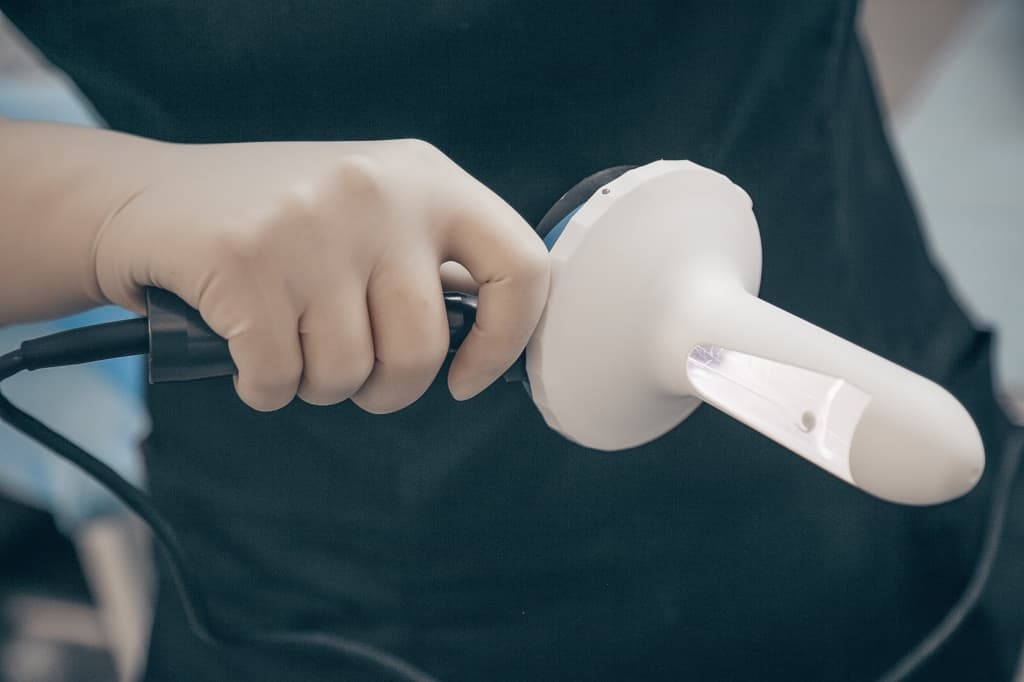 Surgical treatment of diverticular disease, dolichomegacolone.

Surgical treatment of hemorrhoids.

Various types of surgeries are performed: traditional hemorrhoidectomy, surgery using the LigaSure device, which allows performing the operation radically and providing a practically painless postoperative period, as well as minimally invasive ligation of hemorrhoidal arteries using HAL-RAR technology.

Treatment of chronic anal fissures, perianal fistulas.

Surgeries in case of pilonidal cysts.
One day surgery and invasive diagnostic methods
removal of benign tumors of skin and subcutaneous tissue,

breast biopsy, lymph node biopsy, liver biopsy,

endoscopic removal of polyps of the esophagus, stomach, small and large intestine; endoscopic biopsy in the esophagus, stomach and colon conditions.